Hot tubs are a fantastic addition to your home, with the ability to add massive value to your social life, daily wellness routine, and overall health. But like all large items, a hot tub uses energy. And while energy levels can fluctuate, there are a few practical considerations that could help make your hot tub more efficient.
Placing hot tubs outdoors in the middle of the garden might make it a great centrepiece and focal point to bring family and friends together. But if you're seeing an increase in your energy bill, this could be one of the reasons.
Situating the hot tub in an exposed area can lead to the ambient temperature or the wind rapidly chilling the water. This, in turn, will force the hot tub to work harder to replace the lost heat and cause it to be less energy efficient than it can be. Placing the hot tub near trees might also have an effect, as falling debris could enter the hot tub and clog up the filters.
Placing the hot tub near a wall, closer to your house, or providing a shelter from the wind around it via a half-covered gazebo or pavilion will cut down on the impact the wind can have on your hot tub's water temperature, saving you energy and providing added privacy while taking a dip.
2. Shop Around for a Better Energy Tariff
Energy prices rise and fall, but if you're wondering why your hot tub is increasing your monthly energy consumption, it could be to do with the energy tariff you're on. If you are on a fixed term tariff and nearing the end of the price plan you're on; it's worth shopping around for a new one in advance to help stabilise your energy usage.
But if you find yourself on a variable rate, this could see your energy efficiency decrease due to items such as your hot tub.
Taking some time to research a new energy tariff and find a lower rate could see your monthly energy consumption reduced. And having it on a monthly set amount will enable you to keep enjoying your hot tub no matter the season.
That said, Jacuzzi® hot tubs are amongst the most energy efficient on the market today. All our hot tubs go through vigorous testing by the CEC (California Energy Commission), and they have found that on average our hot tubs are 22% more efficient than the strict standard's they set. With this in mind, regardless of the energy tariff you choose, you'll know that you're getting excellent like-for-like energy efficiency.
3. Invest in a Quality Hot tub Cover & Regular Check-Ups
Covers are a fantastic addition to a hot tub; to help keep debris like tree leaves and dirt from getting into the tub, also lock to in heat. Having a good, well maintained cover will help reduce heat loss and energy consumption.
Jacuzzi® hot tubs are all fitted with a cover, with our patented ProLast™ covers providing advanced insulation using vinyl and UV protection to stay more durable for longer. Coming in two types: Extreme, designed for the harshest of climates, and standard, with built-in water strain and angled to stop water pooling in the middle. Both are excellent insulation tools that will help keep the heat in the water where you want it.
Regularly checking on the health of whatever hot tub cover you have will aid in the cover's longevity. A bi-monthly inspection to check for any water retention within the cover and weakening of the insulation will help you avoid losing heat and aid in planning for purchasing a new one.
Locking the hot tub cover in place when not using the hot tub will ensure the heat remains in it for much longer. Keeping the hot tub cover on while you're getting ready to take a dip will also heat the water quicker, and is more energy efficient. There is a big difference between a basic hot tub cover and a great one, with some hot tub covers only slowing down the loss of heat and not retaining it. It's worth doing some research to find one that will suit your climate and remain optimum at heat retention for a long time.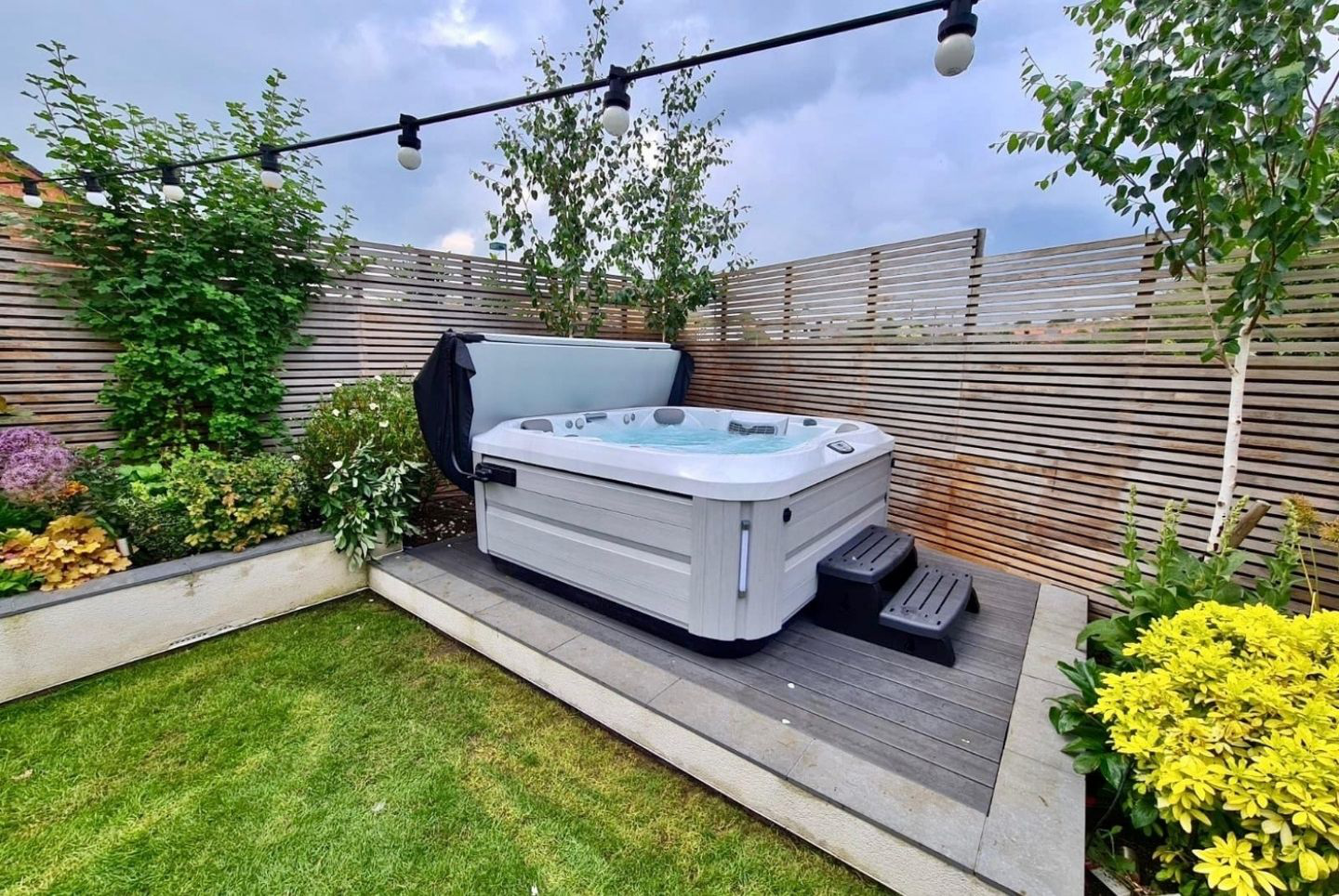 Cabinetry can vary from brand to brand, with some putting an emphasis on quality of build and insulation, while others look for the exterior design to be atheistically pleasing without much attention to how the inside performs energy wise. But what's going on underneath the panels is key to an energy efficient hot tub. A leak or faulty part will lead to energy being inefficiently used and will see an increase in energy consumption as a result.
Hot tubs vary in the type of insulation put in them, with some insulated using foam, thermal blanket technology, or heat-reflecting barriers. As with all items, they can lose energy efficiency over time due to wear and tear. Checking the inside regularly to look for any leaks or damage to the parts or plumbing can help avoid seeing energy being misused or misdirected and help you with long term planning.
All Jacuzzi® hot tubs are built with foam insulation through a multi-layered heat retention and redistribution system to utilise and maximise the heat generated. This excess heat given off by the plumbing and parts is recycled into the water, keeping costs down and conserving energy.
If you have a Jacuzzi® hot tub, consider upgrading to a SmartTub®, for accurate real-time data on your energy use, with notifications when your plumbing or parts need attention and the health of your tub. Remotely access your hot tub at any time from anywhere using a cellular connection and help monitor your energy usage.
5. Think About a New Hot Tub
One of the possible reasons why you're seeing your hot tub decrease in its energy efficiency and cost you more might be the tub itself. Older models, compared to newer ones, won't run as efficiently, and while it might work, it could be the reason why you're seeing your energy be used inefficiently. If you have an older model that doesn't have the new generation of insulation, heat retention, and cabinet technology, it could be time to upgrade.
Jacuzzi's J-300 collection offers outstanding energy efficiency, with the most advanced hydromassage and insulation technology available to deliver a hot tub that can be used as part of your everyday wellness routine.
Searching for more ways to make your hot tub energy efficient? Check out our article on how to enjoy your hot tub in a more energy efficient way.