Singer, model, actress, presenter, and dancer, Kimberley Walsh has accomplished an incredible amount in her career. Joining Jacuzzi® as our latest ambassador, she invited us to her home to discuss why she partnered with us and how a Jacuzzi® hot tub and swim spa has enriched her family's life.
Why IS This Partnership A Perfect Fit?
Bringing the family together
Kimberley sat down with us to discuss why a swim spa was a gamechanger for her family and how easy it is to swim from the comfort of her own home.
"The benefits of having a swim spa are definitely having the option to swim at home."
With three young boys, having a Jacuzzi® swim spa in the back garden has not only saved time, but provided numerous health benefits. As a centrepiece of her garden, the swim spa has brought a focal point for not only her three boys to use, but also for herself and her partner Justin.
Wellness on your own terms
When she's not juggling the demanding commitments of family and work, Kimberley values the importance of taking time to recharge and reset with hydrotherapy.
"Just 20 minutes of relaxation in there on your own can literally feel like you've been to the spa for the day!"
Having a Jacuzzi® hot tub in the back garden is enabling Kimberley to do just that. Whether she wants to ease any aches or pains or simply practise mindfulness, the benefits a quality hydromassage can offer is on her doorstep, whenever she has a moment of free time.
Creating the perfect garden
Renovating her garden, Kimberley has created a stunning landscape in which to enjoy family time together, and a big part of this has been the incorporation of Jacuzzi® products.
"For us as a family, Jacuzzi® products have added so much value to our time outside."
Having designed the garden with the Jacuzzi® J-19 PowerPro™ swim spa and J-335™ hot tub in mind, they have created a haven from the world where every member of the family can relax and enjoy both products.
The Product Mix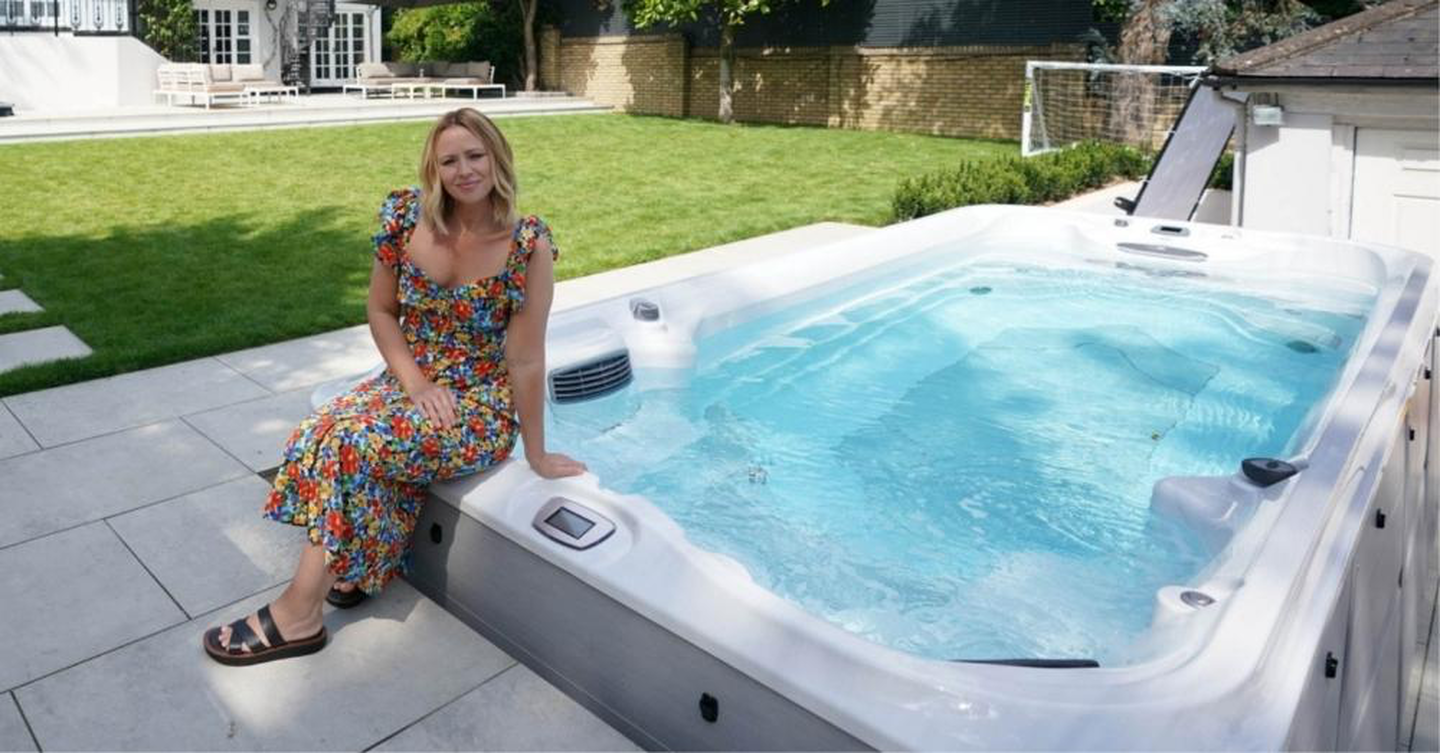 The Jacuzzi® J-19 Powerpro™ swim spa
Standing at 19 feet long, the J-19 PowerPro™ swim spa provides a consistent and predictable swim current through its PowerPro™ PX swim jets. The ProTouch™ control system allows you to set a comfortable resistance and swim without interruption or needing to turn around from any of the swim spa's edges.
Featuring hydromassage seats, the J-19™ swim sp offers hydrotherapy after a swim or play time, whether as a family or by yourself. This combined with the ability to jump around and perform aquatic exercises makes the J-19 PowerPro™ swim spa a versatile wellness tool for all.
The Jacuzzi J-335™ hot tub
Winner of the WhatSpa? 2022 best buy and the GQ best hard-shell hot tub awards, the Jacuzzi® J-335™ hot tub is one of our most popular spas. With seating for up to 5 people including a lounge seat, the J-355™ offers a variety of hydromassage options to help you relax and target key muscle groups to increase circulation and aid in faster recovery times.
Utilising the powerpro™ jets, you can experience varied massages for both light and deep tissue penetration. With 42 jets throughout and the collection exclusive proair™ lounge seat there's something for everyone and a large open footwell makes for ease of movement around the hot tub.