J-445™ 7-Foot Open Seating Spa
Trustpilot
Customise This Spa
2.

Packages

(Optional, Additional Cost)
Select Colour / Cabinet Colour / Package
Product Details
Product Details
One of our most popular hot tubs, the J-445™ provides you with seating capacity for up to six people, with 46 total jets covering several corner seats. Utilising Jacuzzi's PowerPro® jet range for superior design, performance and ease of use, you and your guests can experience outstanding hydromassage in any seat while receiving added protection from the elements with our exclusive high-back design.
Jacuzzi® PowerPro® jet technology;
Massage foot dome;
High-back shell design;
ProClear™ 6-stage filtration system;
ProFinish™ cabinetry with exterior lighting;
LED Lighting;
ProTouch(tm) control panel;
Exterior status light;
Multi-layered insulation;
ProLast™ hot tub cover included;
Bluewave® stereo system with amplified subwoofer;
Available in Platinum acrylic shell colour;
ProClarity® circulation pump;
Four adjustable pillows;
One wide-sheet waterfall;
Offering a multi-layered hydromassage experience across all seats, experience rejuvenating massages that target the lower back, arms, neck, shoulders, legs and feet for hydrotherapy at varying tissue depths. The J-445™ offers a true holistic wellness centre in the comfort of your own home.
Many people are keen to know how much it costs to run one of our Jacuzzi® hot tubs, but with every owner using theirs in a different way it can be very difficult to give an entirely accurate, one-size-fits-all answer. However, what we can tell you is that all our spas are put through rigorous independent testing by the California Energy Commission (CEC) who set stringent standards for how much energy a hot tub can use.
Thanks to our high-quality design, insulation and smart technology, the Jacuzzi® J-445 hot tub exceeds these standards by 36%, giving you the peace of mind that you are choosing one of the most energy efficient spas in the world when buying from Jacuzzi®.
Jacuzzi's patented CLEARRAY® Active Oxygen water purification system uses the natural cleaning power of active oxygen to destroy waterborne pathogens and contaminates. As a result, a Jacuzzi® hot tub will use up to 50% less chlorine or bromine than a similar size spa, making the water kinder on your skin helping to reduce running costs in the long term.
380 gal / 1438 liters

46

1-Speed, 2.0 HP continuous

1-Speed, 2.0 HP continuous

Yes

2
95.25

213.36

213.36

2054.0

1438.45
Features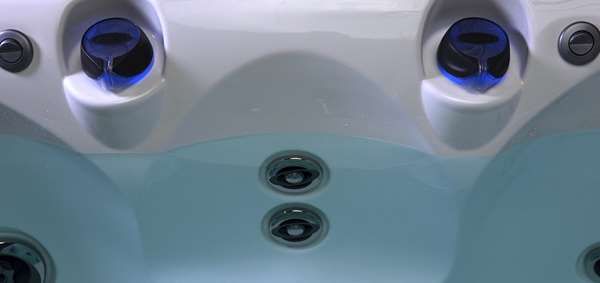 DIVERTER KNOBS / CUP HOLDER
Dual-purpose diverter knobs function as cup holders for added convenience, changing color and highlighting a stream of swirling water.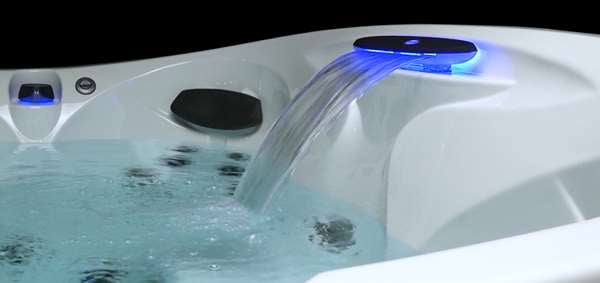 WIDE-SHEET WATERFALL DESIGN
With an exclusive high-back Jacuzzi® silhouette, premium LED lighting throughout and backlit waterfall that cascades down your neck and back, the J-400™ Hot Tub is a sight to behold.
ADJUSTABLE PILLOWS
New, adjustable pillows add enhanced relaxation for people of varying heights.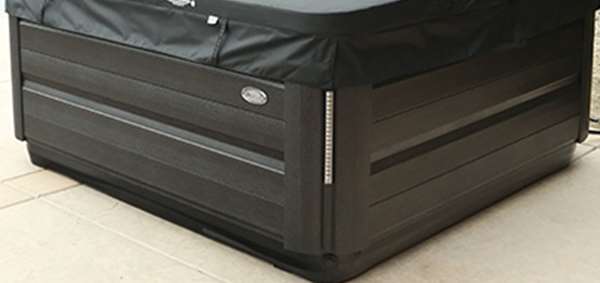 PROFINISH™ CABINETRY
The striking ProFinish™ cabinetry design features optional corner lighting inspired by architecture, drawing the eye to the modern design while providing added safety. And, an illuminated status light to provide quick indication from afar.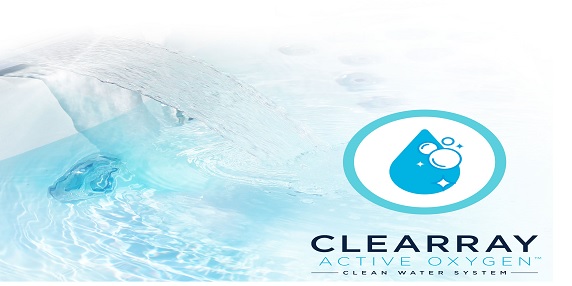 CLEARRAY® PLUS 5-STAGE FILTRATION
CLEARRAY® utilizes the same UV-C technology that beverage manufacturers, municipal waste water plants, hospitals and other health care environments use without producing or adding gas, chemicals, or other by-products to the water as a result. And a 5-stage water filtration system achieves the cleanest water in the shortest amount of time by utilizing five-stages: ProClarity® Filter, ProClear® Filter, ProCatch™ Filter Bag, surface skimmer, and a pleated filter.
Seating & Jets
RX THERAPY SEAT
Deepest soak in any Jacuzzi® hot tub with relaxing Swedish-style back coverage and tension-easing angled calf jets, exclusive to this model.
FX-12 THERAPY SEAT
Full-coverage, deep, adjustable neck and back relief for the perfect massage every time.
WATERFALL SEAT
An invigorating upper back massage to banish pain and strain, combined with a soothing, wide sheet of water cascading across your shoulders.
Customer Review
Trustpilot