After making your purchase there are a number of steps that need to be completed before your hot tub is delivered including where to position your hot tub, preparing the site ready for installation including a solid foundation for the hot tub and an electrical supply to power it.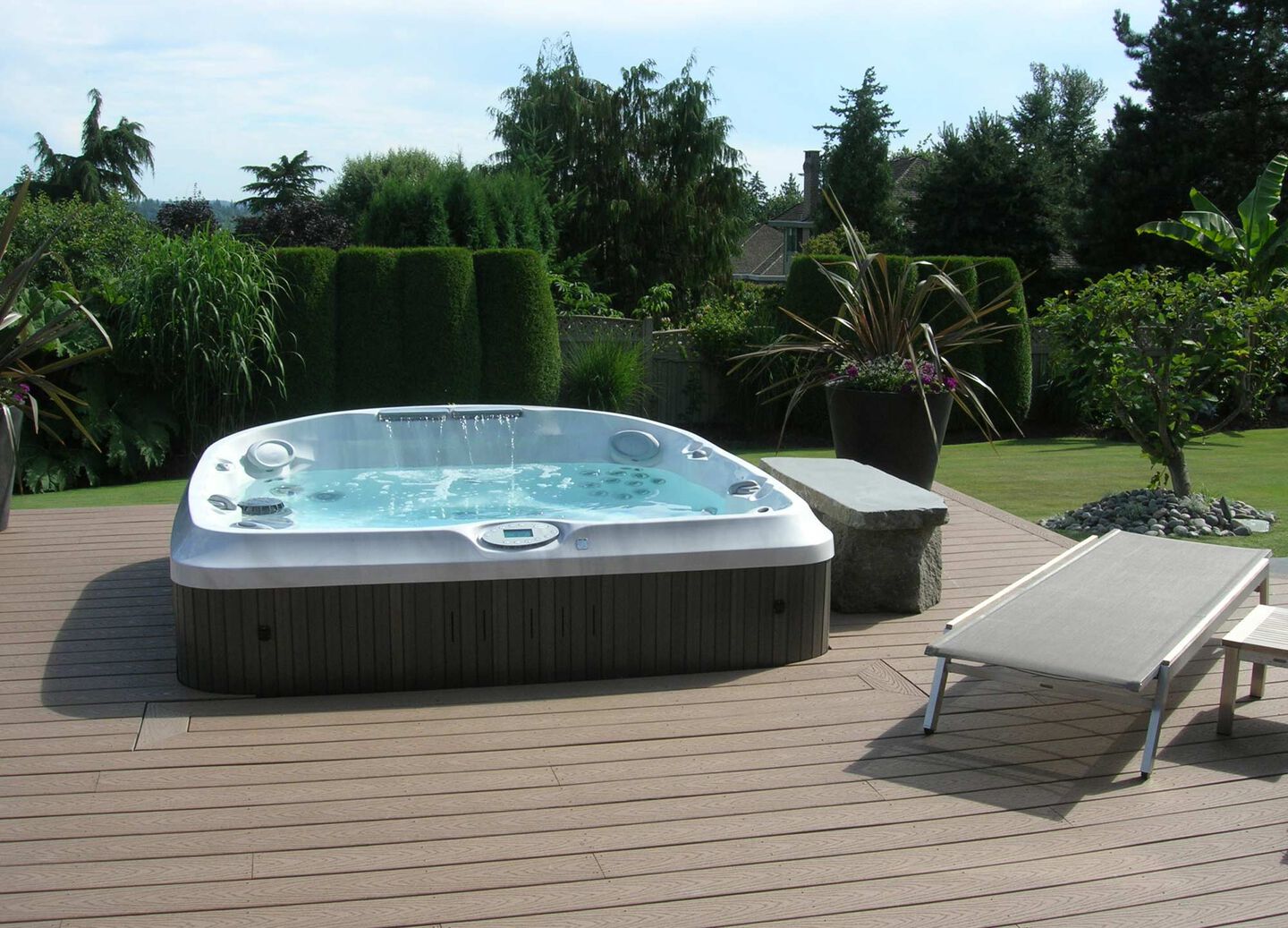 No matter if you're looking to make your hot tub the focal point of your garden or want to integrate it into the landscape of your garden, three factors you should consider when positioning your hot tub are:
Convenience: Positioning your hot tub near to the door of your house allows you a quick route from your hot tub to the warmth of offered inside your home. Remember temperatures inside your hot tub are significantly hotter than the outside temperature especially in the colder winter months.
Privacy: Position your hot tub in an area where you feel comfortable, preferably out of sight of neighbour's windows and not visible from the street. Remember if you can't find a private location out of sight of your neighbours, then gazebo, or patio umbrellas offer great privacy solutions.
View: Position your hot tub in area that allows you to have a great view whilst you're using your hot tub. Try placing your hot tub so you can enjoy a natural landscape of an attractive part of your garden rather than facing the side of your house.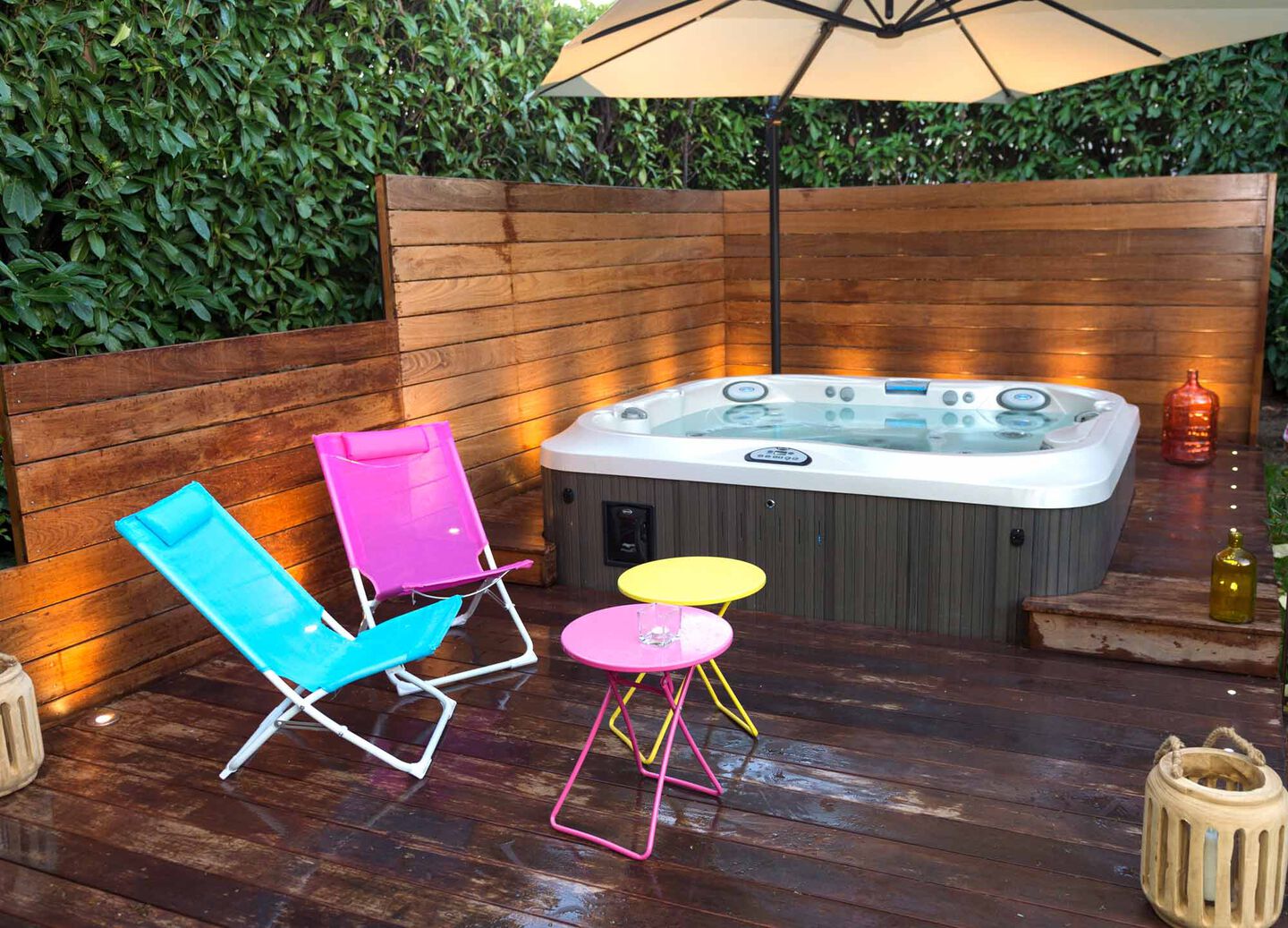 Creating the perfect foundation
A hot tub must be placed on a solid level surface, which is capable to support the weight of the hot tub, the water in it and those who use it.
Concrete: a poured slab of concrete or concrete patio offers the most popular and low maintenance solution, one thing to consider is that concrete doesn't offer the best drainage solution
Gravel: quick and cost-effective way to prepare a base for your hot tub. This type of base offers great drainage, but can be quite tough under foot.
Paving Stones: a cost-effective solution for your hot tub base and with a huge variety of sizes, shapes and finishes available it's easy to create a base that suits your taste and garden.
Hot Tub Pad : ,ade of high density plastic, a hot tub pad offers a quick and easy alternative to other solutions. A hot tub pad is also lightweight and portable so can be easily removed if necessary.
Decking: a popular choice for using as a base for a hot tub and can be tailored to suit your garden. However, it is of utmost importance to consult with a qualified professional to ensure that your decking can support the weight of your hot tub.
Usually a dealer will perform a site survery before the delivery day to offer advice on elements such as access and positioning to ensure your delivery day runs as smoothly as pssible. An average standard installation will take between 2 and 4 hours, depending on water pressure and how long it takes to fill your hot tub. Installations with special requirements will take longer and yt is recommended that objects like plants and outdoor furniture are moved to ensure easy access for the delivery team.
Positioning: for a standard installation the dealer will position the hot tub in the location using their equipment. Should your delivery require special equipment such as a crane or Hiab, it is your responsibility to organise these to be on site in time for delivery, the service provider will lift and position your hot tub.
Electrical Supply: once positioned your hot tub will then be connected to your electrical supply, it is imperative that your electric supply has been tested prior to installation to ensure it is working, and that enough cable has been left from the isolator to reach the furthest point of your hot tub.
Filling & Training: once connected to the electrical supply, your hot tub will be filled with water and provide advice on operating your hot tub, features and the chemicals required and how to use them to maintain your water.