J-16 PowerActive™ Swim Spa
Trustpilot
Product Details
Product Details
An ideal swim spa for both you and your family, the J-16™ PowerActive™ Swim Spa delivers a swimming experience which is powered by one 4 horsepower pump and one 3 horsepower pump through two adjustable PowerPro® AX jets.
The combination of jets and pumps deliver a steady stream of water which when combined with the carefully designed interior incorporating suction inlets and hips that eliminate the reflective wave delivers a smooth, predictable, spacious current of water for a great swim experience. The SteadySwim™ buoyancy jet keeps swimmers aligned by elevating you into the proper body position throughout your swim. The J-16™ PowerActive™ Swim Spa can also be used as the perfect exercise pool and aquatic gym, the Soft Stride mat on the floor allows you to perform a variety of fitness exercises in the water without the risk of slipping, whilst further accessories allow you to exercise through a variety of circuits for both aerobic and strength building exercises. For after training or swimming, or for those who simply want to relax and enjoy a hydromassage, the J-16™ PowerActive™ Swim Spa features four ergonomically designed seats including a cool down seat; each features a unique jet configuration with Jacuzzi® PowerPro® jets.
SmartTub®
is a new standard feature that provides you with remote control from a 3G cellular connection, real-time energy usage monitoring, PowerTone fitness videos in the 'Workout mode' and more.
3HP/2SPD/10/3A

3HP/2SPD/8.6/2.8A

Yes

Clearray Active Oxygen™

2
Features
PowerActive™ AX Swim Jets
The unique oval design flattens the water into a smooth, predicable, non-turbulent swim for the everyday athlete.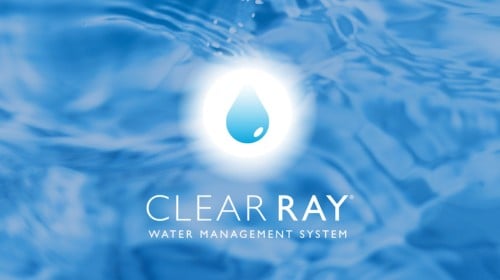 CLEARRAY Active Oxygen™
Harnesses the power of air and light to work harder and clean the water for longer. It's an advanced oxidation process that destroys contaminants and waterborne pathogens helping to reduce the use of chemicals.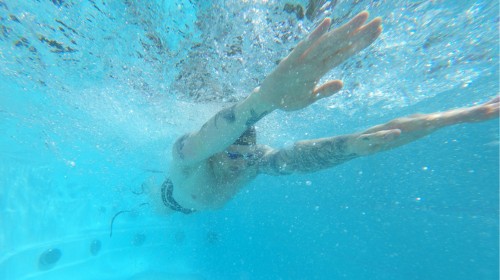 Smooth, Turbulent Free Swim
A unique SmoothSwim™ shell design incorporates hips in the shell to stop reflective waves and keep you in your swim lane and return suctions located at the opposite end of swim blades eliminate turbulence, producing a conveyor belt-like swim system for a smoother swim.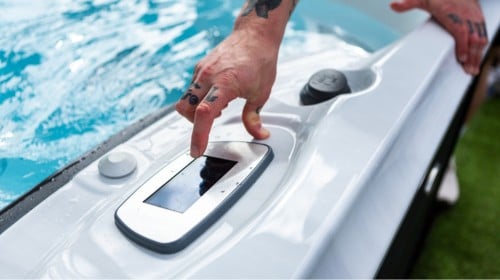 ProTouch™ Control
Lets you turn on your swim jets and adjust your hydrotherapy experience at the tap of a button.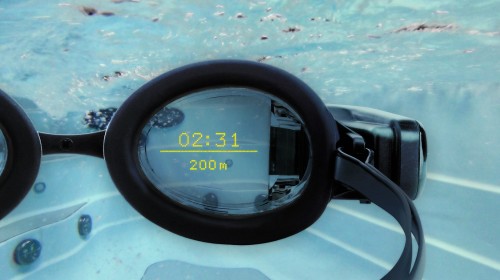 FORM Smart Swim Goggles
Calibrated specifically for Jacuzzi® Swim Spas, the FORM Smart Swim Goggles deliver real-time analytics on your optical display providing consistent feedback for uninterrupted workouts, lets you analyse results and customise your swimming routine and allow you to engage with other swimmers in the app.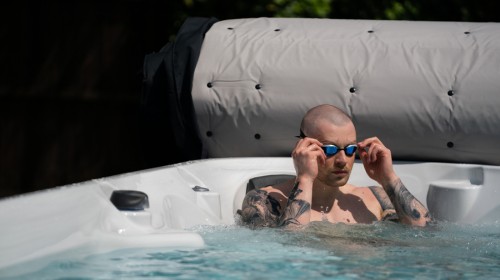 Elite Hydromassage
More jets do not equal a better experience, but the right jets do. From the perfect mix of air and water to the careful placement of each exclusive PowerPro® jet deliver the optimal massage.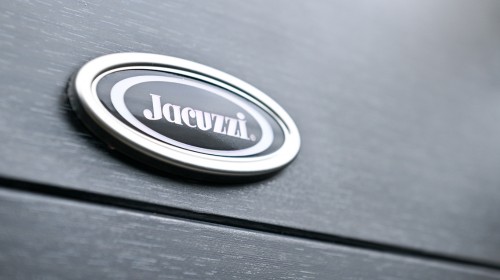 Energy Efficient Engineering
The combination of a strong shell, foam insulation, SmartSeal™ insulation, insulated floor and fully-adjustable venting help boost eco-efficiency.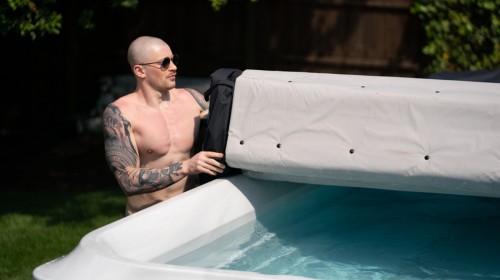 Rollaway Cover (Optional)
Light, energy-efficient, and easy to use, the next generation of swim spa cover creates a complete seal and can be opened by one person in less than 60 seconds.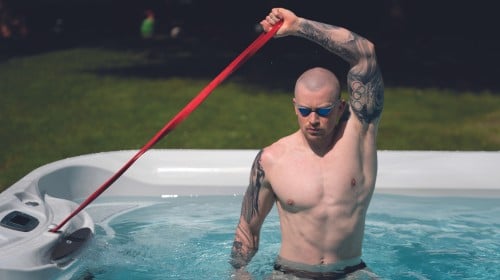 Aqua Fitness Package (Optional)
The addition of this fitness package turns any swim spa into an aquatic universal gym. The resistance bands add another dimension to your workout and can be used anywhere in your swim spa within the exercise or swim tank area. The resistance bands create a full range of motion helping promote muscular development.
Customer Review
Trustpilot