Product Details
Product Details
A practical and exclusive spa: a mere 3 square metres, in the privacy of your own home.
Sauna, emotional shower and hammam in a small space, with the comfort of an authentic spa. Whether in white or black, Sasha Mi can be installed in just a few steps and immediately expresses its character. Elegance, exclusivity and functionality for your wellbeing.
Features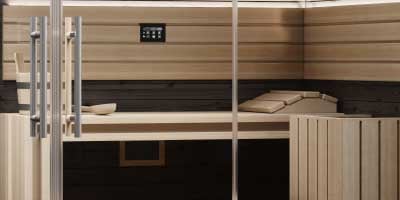 SAUNA
Solid wood, chromotherapy and set-up for cable radio: essences, colours and tunes that express wellbeing. The two benches, one of which is removable, the wooden pail and ladle, thermo-hygrometer, hourglass and touch controls, open up to the ritual and atmosphere of a real professional spa. In the heart of your home.
Programmes:
Biosauna: 60°C - 30-35% humidity
Roman Sauna: 70-75°C - 20-25% humidity
Finnish Sauna: 90°C - humidity below 12%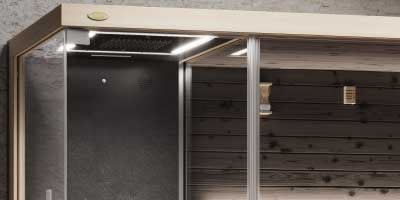 Emotional shower
Double rain-effect shower head, water blade, emotional shower with 3 jets, spray mist and chromotherapy activated from a dedicated touch panel complete the prestigious cycle of the Jacuzzi® home wellness solution.
Programmes:
Cold mist: a very fine, almost velvety mist, ideal for a cool or cold shower
Fine rain: a rain shower with medium-sized droplets and a cone-shaped spray
Tropical rain: a spray more intense, more energetic than fine rain, with a "massage" effect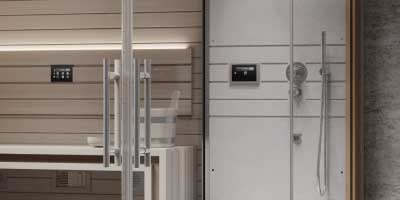 Hammam
Internal light with variable colours and fine furnishings, as in the best and finest spas. And in addition, all the versatility of the equipment, with handheld fountain shower and rain-effect shower head to cool off after a steam cycle, or from using the Hammam as a shower. Water as an elixir that melts away all tension.
Programmes:
Tepidarium: ~38°C – medium humidity
Hammam: ~40°C - high humidity
Calidarium: ~42°C - high humidity